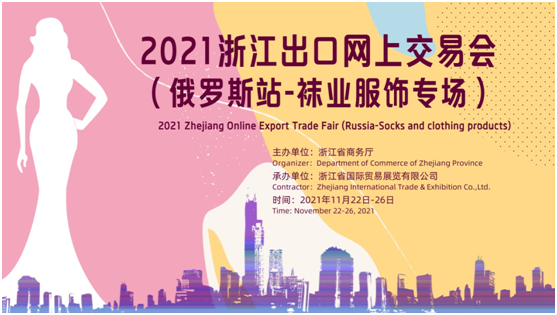 2021 Zhejiang Online Export Trade Fair (Russia- Hosiery garments) is organized by Department of Commerce of Zhejiang Province, Zhejiang International Trade Exhibition Co., LTD.In an efficient and convenient way, help zhejiang province hosiery garment foreign trade enterprises to stabilize orders, protect shares, expand the market, promote "quality Zhejiang goods", promote the image of Zhejiang province as a big foreign trade province.The exhibition will be held from November 22 to 26. The exhibition will use the online exhibition platform of Zhejiang International & Trade Exhibition Co., LTD http://online.expozj.cn/ to introduce video conferencing, 3D, big data, AI, live broadcasting and other application scenarios to organize one-to-one "cloud docking" between enterprises and overseas professional buyers.Divert offline resources to online, so as to realize the leap of foreign trade exchange from "face to face" to "screen to screen".The specific purchase content is hosiery apparel products: stockings, socks, hosiery machines, hosiery raw materials and related apparel and accessories, etc.
1. Exhibition Overview
Name: 2021 Zhejiang Export Online Trade Fair (Russia- Hosiery garments )
Time: November 22nd-November 26th, 2021
Organizer: Department of Commerce of Zhejiang Province
Contractor:Zhejiang International Trade Exhibition Co., Ltd.
Supporting unit: The chamber of Commerce and industry of the Republic of Buryatia
2. Exhibition content
(1) Stockings: pantyhose, fashion socks, stockings, jacquard socks, lace socks, suspenders, three-quarter pants, nine-quarter pants, mesh socks, seamless underwear/women's underwear, etc.
(2) Socks: men's socks, women's socks, children's socks, baby socks, wool socks, student socks, boat socks, silk socks, cotton socks, cotton socks, ammonia socks, towel socks, sports socks, health socks, massage socks, nano socks, ski socks, medical socks, Y socks, golf socks, bamboo fiber socks, carbon fiber socks and so on.
(3) Hosiery machine: full computer high speed hosiery machine, full computer jacquard towel hosiery machine, double needle hosiery machine, single needle hosiery machine, automatic shaping hosiery machine, embroidery hosiery machine, jacquard hosiery machine, large computer hosiery machine, small computer hosiery machine, shaping machine, embroidery machine, turning hosiery equipment, dyeing equipment, etc.
(4) Raw materials for hosiery: spandex, polyester, cotton yarn, polyamide, acrylic, coated yarn, elastic thread, polypropylene, lace, Lycra core-spun yarn, blended yarn/fancy yarn, nylon stretch yarn, functional fiber, etc.
(5) Clothing and accessories: underwear, hats, scarves, gloves, fashion accessories, other accessories, etc.
Product pictures of some registered enterprises